About Us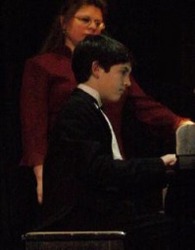 Unique European PIANO teaching method with RAPID ADVANCE
for students from 4 years old to adult; whether beginner or advanced, and regardless of past experience!

Now Enrolling:
* PIANO lessons and choice of multiple intensive programs ("Basic", "Advanced" and "High School Diploma") to select from.
​


Our Mission: We are dedicated to teaching and guiding each student in order to master their musical ambitions, in understanding music theory and building their technique and performance skills. Within each student we see a rising star.

Our Vision: To unveil the gift of music in our students.

​Our concept of teaching and learning: We believe that anyone can learn playing piano regardless of age or the innate abilities they possess.

Our goal: For each student to be able to just open a music book and play any piece of music they wish, without assistance and regardless of what educational or career path the student seeks.

Our founder: Yevgeniya Jenny Anderson, National Certified Teacher of Music in Piano by Music Teachers National Association (NCTM) and Certified Music Teacher by The American College of Musicians.

Jenny is an active member of The National Guild of Musicians, MTNA (Music Teachers National Association), including WVMTA, FCMTA. She possesses an extensive European music educational and teaching background, specializing in all phases and levels of piano, guitar and accordion instructions. She has been teaching students from WV, VA and MD since 2004. Prior to this, Ms. Anderson taught for many years in Europe. Several of Jenny's students, received a "top- talent" rating in the Guild Adjudication multiple times, many completing the National and International Programs. She has an unique and special talent for working with very young students and she loves teaching.

Through teaching, Ms. Anderson covers:
* Music reading
* Music theory
* Ear training (including rhythmic and melodic dictations)
* Technique (Russian pattern /Piano Olympics)
* Piano repertoire (all styles)
* Performance skills
* Ensemble work
* Accompaniment
* Basic composition and lyric poem creation
* Examination's and,competitions preparation

Thank you for visiting our website, and please don't delay in joining Virtuoso Music School TODAY.

We're looking forward to helping you to Express Yourself in Music Excellence!
---